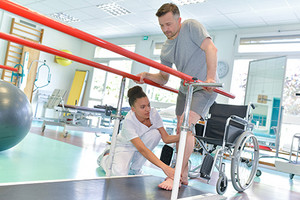 Long-term care insurance provides financial coverage if you become unable to take care of yourself due to illness or accident, for example. The insurance may pay an annuity to cover, for instance, long-term stays in specialized care centres or in-home care.
Instead of paying an annuity, the coverage may reimburse expenses if you become dependent, in which case you will have to submit invoices.
Evaluate your financial needs
Decide whether you need this insurance. For example:
Do you have the cash required to pay the costs related to a loss of independence?
Have you taken out disability insurance that provides you with sufficient coverage?
Do you already have insurance that covers hospitalization costs and the services of health professionals, such as occupational therapists and physiotherapists?
In retirement, will you have enough income for specific care needs? You may have budgeted for recreational activities that you would have to give up due to a loss of independence. Instead, these funds could be used to cover healthcare expenses if need be.
Consider the cost of the insurance
The cost of the insurance should be in line with your budget. Long-term care insurance may prove to be quite expensive. Check how long you need to pay premiums and ask yourself these questions:
Is that a reasonable period given the benefits you could receive? Or would it be more in your interest to set aside funds to cover long-term care costs?
Some contracts require whole life premiums, while others require you to pay premiums for a set term or until a given age. Ask yourself:
Are the premiums fixed or do they increase over time (stepped premiums)? If they increase, do you know by how much?
Stepped premiums will become increasingly expensive with age. Could you keep this insurance in effect despite the higher cost over time?
If you make a claim, do you have to keep paying premiums?
Insight
Did you know?
You don't necessarily have to be retired to benefit from long-term care insurance.
The factor to be considered is loss of independence.
End of the insight
Choose a contract that suits your needs by checking the following:
The criteria to be entitled to benefits
Some contracts stipulate that, in order to be entitled to benefits, you require assistance to perform a number of daily activities, such as bathing, dressing, toileting, transferring, maintaining continence and eating. Other contracts will pay benefits if you need constant supervision following impairment of your mental abilities. Not all contracts are identical.
The amounts paid by the insurer
The higher the benefits, the more you will have to pay.
The benefit period
Some contracts have limited benefit periods (one year, two years, etc.). Other contracts allow you to receive benefits for as long as you meet the eligibility criteria.
The waiting period before being able to receive benefits
Once you meet the criteria to receive insurance benefits, you generally must wait a specified period of time, such as 30, 90 or 180 days.
The protections
Different protections are available, such as inflation protection (benefits increase by a set rate every year), partial or full return of premium on death, and a lump sum when making a claim to partially or fully compensate for the fact that you did not receive any benefits during the waiting period.
Warning
Remember to pay your premiums! If you don't, you could lose your coverage.
End of the warning
This type of insurance meets your needs and your budget?