This section provides the latest news and initiatives from the AMF and the Québec network of financial education specialists.
QFES – 2019-2020 Activity Report (pdf - 1 MB)

This link will open in a new window

Updated on 17 November 2020
The 2019-2020 Activity Report highlights the plethora of initiatives carried out in support of the two phases of the most recent QFES action plan: Collaboration among the partners of the Québec network of financial education specialists and Quebeckers' financial well-being.
Read the 2019-2020 activity report of the AMF-led Québec financial education strategy to find out about key initiatives carried out in 2019-2020 to support Quebeckers in improving their financial well-being.
Consult the AMF's latest orientations and initiatives to improve Quebeckers' financial health.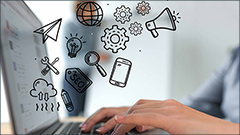 Presented on a revamped platform, the directory now offers resources to all consumers based on their current needs.
Tools to discover
Taught by McGill professors, the course consists of eight on-line modules that cover the fundamental concepts of finance, including borrowing, real estate, budgeting and investing.

Educational kit that includes five activities and approaches financial literacy from a socioeconomic perspective.
---
This link will open in a new window
Mandatory financial education course
Following the addition of a mandatory financial education course to the Secondary V program, the AMF partnered with the Commission des normes, de l'équité, de la santé et de la sécurité du travail and the Office de la protection du consommateur to develop various teaching activities.
The proposed material This link will open in a new window, including teacher's guides and student worksheets, is intended to build on the program's primary competency: Take a position on a financial issue.
The activities relate to topics such as budgeting, credit, saving, investing and borrowing. These teaching activities have not been submitted to the Ministère de l'Éducation et de l'Enseignement supérieur for approval. Teachers should refer to the material provided by their school board as a first step.
---
Financial Education Day
Every year, Financial Education Day brings together more than 90 financial education specialists from financial institutions, regulatory bodies, teaching establishments, and consumer organizations.
The 2019 Financial Education Day took place in Montreal on April 30th.
For any questions, contact Mme Anne-Bianca Morissette.
---
E-mail Info on financial education
(Available in French only)
Be part of the Québec network of financial education specialists and find out about events, campaigns and educational tools designed to help Quebeckers be aware consumers of financial products and services.