This section provides the latest news and initiatives from the AMF and the Québec network of financial education specialists.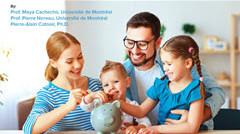 Tracking changes in Quebeckers' financial behaviour. Consult the Research report on a new Applied Financial Literacy Index.
Check out our tools and resources to help young adults become financially self-sufficient.
Towards the next QFES Action Plan!
The AMF and its partners are currently working on the 2023-2026 QFES Action Plan. This 3rd action plan will be unveiled during Financial Literacy Month (November 2023). In the meantime, the Autorité will take advantage of a few forums to provide information on the progress of the work.
Tools to discover
Web site offering a range of activities and tools to help kids in elementary or secondary school become better informed consumers.

An exciting way to get familiar with the world of economics and finance.
---
The AMF provides teacher support

Resources and activities for teaching financial education and personal finances to elementary school, secondary school and college students.
The activities offer a variety of teaching-learning situations adapted to the reality of young people and aimed at developing this skill and its components:
Identifying the situation
Examining the options
Considering the legal aspects
Relativizing its position
---
Financial Education Day
Every year, Financial Education Day brings together more than 90 financial education specialists from financial institutions, regulatory bodies, teaching establishments, and consumer organizations.
For any questions, contact Mme Anne-Bianca Morissette.
---
E-mail Info on financial education
(Available in French only)
Be part of the Québec network of financial education specialists and find out about events, campaigns and educational tools designed to help Quebeckers be aware consumers of financial products and services.