Retirement planning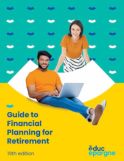 Guide to Financial Planning for Retirement
Consult the guide
This link will open in a new window
The Guide contains information and advice prepared specifically for you, to help you put your retirement planning on a solid foundation, based on your retirement goals.
Checklist
We invite you to also consult this checklist:
Sample Power of Attorney and Explanatory Notes
Entrusting someone with the management of your property is an important matter. That's why you should sign a power of attorney (pdf - 180 KB)
This link will open in a new windowUpdated on November 17, 2014. This document will protect your interests!