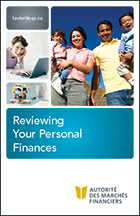 Reviewing Your Personal Finances
Download PDF document (pdf - 5 MB)This link will open in a new windowUpdated on 14 June 2016
Take a few minutes to think about your current financial situation and then answer the following questions:
Have you reviewed your personal finances lately?
How much do your debts, savings and/or investments amount to?
Do you have a clear idea of your total income and expenses?
Do you have specific savings or investment goals?
If you're not sure about the answer to any of these questions, or if you're not satisfied with your answers, this brochure can help you.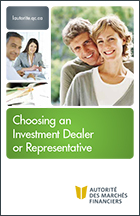 Choosing an Investment Dealer or Representative
Download PDF document (pdf - 4 MB)This link will open in a new windowUpdated on 22 August 2016
You're a novice or seasoned investor who could use some assistance on where to place your money. Answer the following questions:
Do you know who to ask for investment assistance?
If so, is this person authorized to offer the financial products and services you need? How is this person paid (e.g. commission, salary)?
What will this person do to help you achieve your investment goals?
Are you able to provide this person with a detailed picture of your financial and personal situation so that he/she can recommend the appropriate products and services?
Many investors can't answer these questions. But since this is YOUR money we're talking about, you need to do your research before handing it over to anyone