Insurance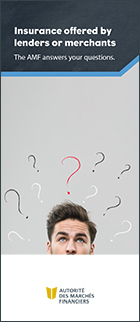 Insurance offered by lenders or merchants
Download PDF document (pdf - 382 KB)
This link will open in a new windowUpdated on April 11, 2022
When you apply for automobile financing or a mortgage on a home, or when you purchase certain goods and services such as a trip, the lender or merchant may offer:
life, health and loss of employment insurance on your loan;
replacement insurance (available in particular through automobile dealers).
Specific rules govern the sale of these types of insurance. The lender or merchant, who is then called the distributor, does not need to be a representative certified by the AMF.