Investments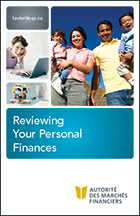 Reviewing Your Personal Finances
Download PDF document (pdf - 487 KB)
This link will open in a new windowUpdated on June 17, 2022
Take a few minutes to think about your current financial situation and then answer the following questions:
Have you reviewed your personal finances lately?
How much do your debts, savings and/or investments amount to?
Do you have a clear idea of your total income and expenses?
Do you have specific savings or investment goals?
If you're not sure about the answer to any of these questions, or if you're not satisfied with your answers, this brochure can help you.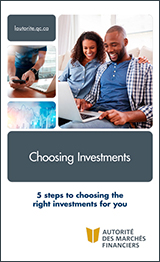 Choosing Investments
Download PDF document (pdf - 1 MB)
This link will open in a new windowUpdated on June 17, 2022
Think back to the first time you made an investment, for example, by contributing to your RRSP. Then answer the following questions:
Which type of investment did you choose (e.g. stocks, bonds)?
Are the capital and the return guaranteed? If so, who is offering the guarantee?
What are the conditions for cashing in your investment?
What is the expected return?
How much tax will you have to pay on the gains?
Are there other more suitable investments for you?
Many investors can't answer these questions. Yet this is YOUR money. So, before investing, investigate.