Take the time to read the Fund Facts. The Fund Facts is a document that highlights key information for investors about a mutual fund or an exchange-traded fund (ETF). You can consult the Fund Facts on the website of the institution offering the fund, or simply ask for a copy.
The Fund Facts provides core information about the fund and briefly explains the fees and expenses you will pay, the dealer's compensation, and your rights. For more details, consult the fund's simplified prospectusA prospectus is a detailed information document that a company must prepare to be able to sell securities (such as shares) to the public.
It must provide full, true and plain disclosure of all material facts likely to affect the value or market price of the security in question. .
Mutual Fund Facts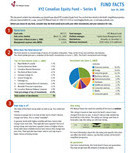 Exchange-Traded Funds (ETFs) Facts