You're offered an opportunity to learn to trade in stocks, crypto assets or other financial products? You're told you'll get rich quick? You're fascinated by the testimonials on social media from people who claim to have made a fortune? Don't fool yourself! Becoming an investor takes more than a few days, and there's no such thing as easy money!
Beware of training opportunities that are too good to be true: the real purpose is to get money out of you.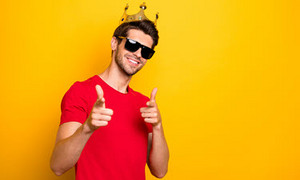 Here's what can happen if you get lured into accepting this type of offer.
First, you'll have to pay to register for an on-line platform. This will give you access to training material. You may be offered a trading practice account. Depending on the type of account you choose, a robo-adviser or an application may be provided to help you make "winning" trades.
You may also be offered the chance to earn additional profits or get discounts on your trades if you refer friends and they also register for the site. In reality, your credibility with your friends and family is being leveraged to promote the platform and recruit other potential victims.
Although you may be promised a quick windfall, remember that the only ones who'll get rich are the masterminds behind the "network."
The fact is, there are no miracles.
There is no robo-adviser or application out there that can guarantee you'll always make winning trades. If there were, everybody would know about it and cash in on the opportunity!
You might start off getting good returns to motivate you to invest more money. But be careful: it's a scam! The amounts you see in your account may actually be fictitious.
When you decide to pull your money and profits out, the scammers will come up with all kinds of excuses to stop you from getting to your cash. There is practically no recourse for recovering your money because the scammers are often located abroad and are rarely registered with the AMF.
Insight
Here are a few tips to help you avoid getting scammed
Don't be tempted by offers that sound too good to be true and social media testimonials by young people who seem to be living the good life on earnings from successful investments
Don't believe ads that promote foolproof ways to get rich quick
Be careful if you're offered money to recruit friends or acquaintances
Always check whether the person or company offering you the opportunity to invest is registered with the AMF
Contact us before doing anything else! 1 877 525-0337
End of the insight