There are many cryptoasset scams around. Learn to identify them so you don't get defrauded.
The high returns that some people claim to earn from their cryptoasset investments can be enticing. Scammers are taking advantage of the craze created by such claims to sell get-rich-quick dreams and defraud their victims of the money they believed they had invested. These fraudsters are organized, structured and highly skilled at extracting ever-larger amounts of money from investors before disappearing from sight.
Solicitations on social networks, flashy ads and the use of influencers are some of the tactics fraudsters use to reel in their victims.
Beware of the following schemes
Scams involving the launch of a new cryptoasset
Initial cryptoasset or coin offerings, commonly referred to as ICOs, are very risky, highly volatile investments that exist in an environment that makes them susceptible to manipulation and fraud. Coins are created using readily accessible technology and are easily marketed on decentralized exchanges, without any third-party intervention or authorization. For example, many ICOs are launched on Ethereum, a decentralized blockchain that is open to everyone and whose use is unregulated. All it takes is a quick search of the Internet to find sites that explain how to create coins and how to make them available in a just few minutes for trading on a blockchain.
This situation is encouraging the proliferation of coins on the Internet whose promoters are luring investors with the promise of huge returns on investment projects. Many of these coins are available from decentralized platforms, such as Uniswap, that operate without any human intervention.
Attention-grabbing ads offering training, advice and promises of returns that are too good to be true
Ads on social networks help scammers make initial contact with you. They may offer you a chance to receive advice or training that will quickly make you an expert. The scammers will do whatever is takes to gain your trust and implement their scheme to extract personal information and as much money as possible from you.
Encouragement to move your cryptoassets to another platform
Scammers may begin by convincing you to purchase cryptoassets on a platform. After falsely building a relationship of trust with you, they will encourage you to move your cryptoassets to another platform under the guise of helping you get higher returns. The second platform is fraudulent and shows false results. Your cryptoassets have been stolen without any chance of being recovered by you.
Help and advice from a new dating app or social network friend
The scammer will start by showing an interest in you by discussing shared hobbies and interests. Then, after a few days or weeks of pleasant conversation, the person will talk about investments he or she has made that have earned generous returns.
Once a relationship of trust is established, the "new friend" will offer you help you so you, too, can profit from high-return investments. Those investments might be in cryptoassets on an online platform that, while appearing to be legitimate, is actually fraudulent. Sooner or later, the person will disappear with your money.
Recovering sums lost through fraud: the scam goes on!
Some scammers may offer to help you recover the money you lost in a cryptoasset fraud scheme. They will ask you to pay an advance fee but won't provide you with any services. In some cases, they may also ask you to share personal information that they will then use to defraud you without helping you get your money back.
Stéphane: a fraud victim's story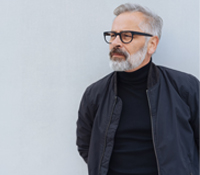 Stéphane managed to save up $240,000. After hearing about the high returns some people claimed to be earning from their cryptoasset investments, he decided to learn more about the topic by browsing various websites. In searching the web for further information, he came across more and more ads offering training and amazing opportunities to invest in cryptoassets
Read his story
Curious about cryptoassets
Stéphane was planning to retire in three years. Everything he was reading and hearing about cryptoassets suggested that he could make a substantial amount of money and even retire earlier that expected.
Giving strangers your contact information is like giving them the key to your house
His attention was drawn to one of the ads appearing on the social networks he liked to frequent. He completed an online form so he could get more information. After all, what did he have to lose?
A call from a friendly "financial advisor"
The next day, Stéphane received a call from a "financial advisor" named Fabrice who said he was based in Luxembourg. Fabrice claimed to work for KryptoSelect360. He was friendly, outgoing and professional. He inspired Stéphane's trust. Fabrice touted cryptoassets as "low-risk investments offering returns that are at least 10 times higher than what is offered by the stock markets."
The fraudster's objective: gain your trust by starting with a small amount
Stéphane hesitated, at which point Fabrice suggested that Stéphane invest a modest amount, $300, and convert it to cryptoassets. Fabrice helped Stéphane open an account on a cryptoasset trading platform, convert his dollars to cryptoassets, then transfer the amount to KryptoSelect360's platform to make it grow. For Stéphane, $300 seemed like a reasonable amount for someone making their first foray into the world of cryptoasset investing.
After three weeks, the $300 investment had grown to $750. To make sure that everything was above board, Stéphane withdrew some of the money, with Fabrice's help. Fabrice told him that he had earned a good return, but that he could get rich "very quick" if he invested larger amounts.
Never hand over remote access to your computer
Inspired by the ease with which Fabrice touted the alleged merits of cryptoassets and by the return he had earned , Stéphane told himself that this was a once-in-a-lifetime opportunity. He undertook to transfer money in large amounts. Fabrice asked for and obtained control of Stéphane's computer and showed Stéphane how his investments were performing. Encouraged by his portfolio balance, which was increasing virtually in front of his eyes, a perception that was supported by graphs and statements, Stéphane invested tens of thousands of dollars, several times a week. Within three months, he had invested nearly $240,000 in cryptoassets. According to what he saw on his computer screen, he was already a millionaire.
Realizing that it's a scam and it's too late
Satisfied with the balance in his portfolio, Stéphane wanted to sell his cryptoassets and asked Fabrice to liquidate his investment. Fabrice told Stéphane that certain fees and capital gains tax needed to be paid first, leaving a total of $200,000. Stéphane then asked Fabrice to deduct the amount from his portfolio balance. Fabrice told him that it was not possible to proceed in that way and that Stéphane would have to send the amount to KryptoSelect360 in order to retrieve the value of his cryptoassets.
That is when Stéphane realized he had been scammed. In the next few days, the KryptoSelect 360 site disappeared from the Internet and Fabrice stopped answering his calls. The cryptoassets Stéphane thought he had owned had been transferred to a series of anonymous accounts and were not longer traceable.
Warning
Fraudsters seeking to earn your trust
If you hesitate, a scammer might encourage you to invest a small amount. He will then let you withdraw some money (amount invested and supposed earnings) to gain your trust. The scammer will do whatever it takes to convince you to invest even more money. When you try to withdraw large amounts, he or she will mention all kinds of fees and timing issues. Sooner or later, the platform and the scammer will vanish.
End of the warning
Insight
9 tips to help you avoid fraud
1. Offers that sound too good to be true should raise red flags. There's no such thing as high returns without risk.
2. Check whether the person who contacts you and the cryptoasset trading platform are registered with the AMF.
3. Be on guard if the company that manages the platform does not have a civic address in Canada or if the person who contacts you and that you want to deal with is based outside the country.
4. Avoid investment offers that are made on social networks or by strangers that were not contacted by you.
5. Be very careful before investing in a new cryptoasset that, for example, is vigorously promoted on social networks by influencers.
6. Beware of anti-elitist comments. Anyone who encourages you to undermine the government or avoid financial institutions is likely trying to stop their illegal activities from being exposed.
7. Never give your passwords or control of your computer to anyone and especially not to strangers who claim to want to help you with your investments.
8. Do not transfer your cryptoassets from one platform to another platform that is not registered with the AMF.
9. Check several sources and feel free to contact the AMF.
End of the insight
Role of the AMF
Vigorous efforts are being made by the AMF to quickly detect fraud. However, the massive size of the Internet and the use of social networks mean there will always be some incidents of fraud. For example, coins are created using readily accessible technology and are easily marketed on decentralized exchanges, without any third-party intervention or authorization.
The AMF provides various resources to help you remain vigilant:
AMF investor warnings
Check the investor warnings list of websites and companies carrying on potentially high-risk investment activities in Québec in contravention of the laws administered by the AMF.
Be informed: The AMF issues investor warnings about companies or individuals whenever Quebeckers are at risk of becoming victims of a fraud scheme.
If you have any doubts, call us!
The AMF Information Centre can help you obtain the information you need to know before investing.