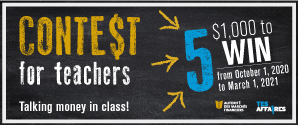 From October 1, 2020 to March 1, 2021, earn a chance to win one of five $1,000 cash prizes for carrying out a financial education activity in your virtual or physical classroom.
Tesaffaires.com and the Autorité des marchés financiers (AMF) are encouraging elementary school, secondary school, CEGEP and adult education teachers to incorporate money, budget, investment or credit concepts into their classes.
Want to enter? It's easy!
1- To talk about money in class, choose from among the following educational tools:
We will accept one entry for each tool used in class. The draw will be held on March 4, 2020.
---
Bourstad
Want to introduce your students to stock market investing? Why not have them participate in a stock market simulation where they're given a fictitious amount of $200,000 to build and manage a portfolio ? There are two ways to participate:
The Bourstad Challenge runs each year from February to April and has three components: portfolio management, responsible investment and financial performance. Participants build a portfolio from a selection of more than 500 real-life securities and their transactions are processed in real time. Over $30,000 in prizes are awarded at the end of the contest. Registration fees apply.
Bourstad Anytime gives you the possibility of organizing a private investment simulation. The application is free and available year-round.