Even if don't earn a lot of money, there are steps you can take to limit your spending. Here are five things you can do.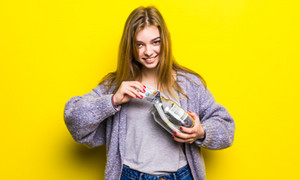 Prepare a budget
It takes just a few minutes to find out how much money goes towards your various expenses every month. You can then decide which expenses can be reduced so you can build up some savings.
Get around for less
Whenever you can, use public transit to get around instead of a car. Even better for your wallet, walk, skate or cycle! For longer distances, why not carpool?
Plan your communications
Don't forget to include cell phone and Internet charges in your budget. Shop around until you get the best price and, if you don't want to use prepaid cards, don't exceed your plan limits.
Save on your purchases
Why not get together with some friends and buy in bulk? It could shrink your grocery bill. You can also save money by sharing meals. Wherever you go, always ask if they offer a student discount. Buy things second-hand and resell them when you're done with them.
Have fun!
You don't have to spend a lot of money when you go out. There are free shows; it doesn't cost you anything to get together with friends; and there are ways to enjoy the outdoors that don't cost a pretty penny.
For added motivation to save money, set a goal for yourself.