We are all, without exception, potential targets for fraudsters. However, due to the wealth they may have accumulated and, in some cases, their level of vulnerability, the elderly can be a favourite target of fraudsters.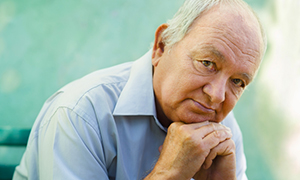 Vulnerability can be defined in several ways. In general, a person can become vulnerable if their personal traits or circumstances cause a temporary or permanent decline in their physical or mental capacities. Unfortunately, there is a greater likelihood that a vulnerable person will fall victim to fraud or choose products and services not suited to their needs. The risk of financial abuse is also increased by such factors as isolation, the death of a spouse and a shrinking social network.
Three common types of fraud targeting the elderly
Affinity fraud
Receiving an investment recommendation from a fellow group member can inspire trust. Fraudsters often approach people who share the same beliefs or interests that they do.
Social clubs, seniors residences and places of worship are the preferred locations for some fraudsters, who frequent them in order to develop relationships with potential victims.
Once they have formed ties with targeted victims, fraudsters may offer investment opportunities that they describe as unique or once-in-a-lifetime. Usually, they will ask for the matter to be kept quiet, since it is a golden opportunity they want to share only with their friends or a select few.
In reality, fraudsters mainly want to prevent victims from exploring the opportunity further and doing customary checks with family and friends, their financial institution or the AMF. This is easier for the fraudster if the senior is isolated.
Insight
Remain cautious, regardless of your age
Be on your guard when a person boasts about their financial success and makes you an attractive offer reserved for a group of insiders or preferred investors.
End of the insight
Friends or family in trouble
Another common strategy, known as the grandparent scam, involves stealing money by posing as a relative to avoid raising suspicion. The usual scenario consists of a phone call or a message on social media. The person says they are a relative, often a grandchild. The person explains that they are in trouble and asks that money be sent to them quickly.
If the person seems to be in an emergency situation and urges you to send money, ask them several questions to confirm their identity.
Be on your guard since, with social media, a large amount of personal information is shared on-line and can be useful to potential fraudsters. Before transferring any money, ask questions. Also take the time to contact other friends and family members to verify the story and ask for a phone number to contact the person who is allegedly in trouble.
Protect elderly members of your family by suggesting that they never agree to such a request without first confirming the identity of the caller and mentioning it to friends or relatives.
Phishing
Phishing often involves e-mails and text messages that appear confusingly similar to the ones that legitimate companies, financial institutions and government agencies might send.
Whether it is a message about an income tax refund, lottery winnings or your bank account being breached, these messages have only one goal, namely, to obtain confidential personal and financial information, such as your SIN, a credit card number or a PIN. With this information, fraudsters can act quickly and extort large amounts from their victims.
Be wary of such messages and never respond to them. A government agency or financial institution would never proceed to obtain or update your personal information in this manner. If any of your family members or friends are elderly, remind them not to reply to this kind of message and to contact you if necessary.
Protecting yourself against financial fraud
To gain access to the portfolios of their victims, fraudsters begin by winning their trust. They are personable and seem informed and competent, like real professionals. They excel in the art of persuasion and know how to highlight their false qualifications and achievements.
Check whether the firms and people offering you financial products and services are authorized to do so.
Their registration with the AMF is not an absolute guarantee against fraud but confirms that a firm or an individual has been authorized to practise.
Is your representative authorized to offer you the product?
Warning
Have you witnessed potential financial crime?
Someone wants to sell you shares or insurance, but your inquiries show that they are not listed in the AMF's register?
A person has invited some of your family members and friends to make an investment and is promising them huge returns?
Report fraud or suspicious practices to the AMF
End of the warning
Framework agreement to fight elder abuse
In order to provide victims of elder abuse with better protection and the necessary assistance, the Government of Québec, in partnership with four government agencies, including the AMF, has formalized the implementation of the Entente-cadre nationale pour lutter contre la maltraitance envers les personnes aînées This link will open in a new window (national master agreement on elder abuse).
The agreement aims to provide better protection and the necessary assistance to victims of elder abuse and to ensure the best concerted intervention process to deal with this abuse.