Thinking of moving out on your own? It's important to first figure out how much it'll actually cost, as rent isn't the only thing you'll have to pay.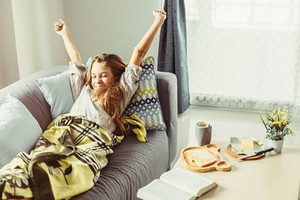 Before beginning the hunt for your dream apartment, you should make sure you can afford it. Start by checking apartment prices in the area or city you want to live in.
Next, make a list of all the costs you'll need to pay in addition to your rent, like telephone, electricity, transportation and Internet access. If you want a rough estimate of how much it'll cost for electricity, you can get one from Hydro-Québec by calling them at 1-888-385-7252 or by going to this page of the Hydro-Québec website
This link will open in a new window.
Make a budget
After you've gathered all the information you need, make a budget by listing your expected income and expenses, including your rent. If your expenses exceed your income, you'll have to find another solution, be it finding a cheaper apartment, getting a roommate, cutting your expenses or earning more income.
Budget for moving costs
Don't forget to factor moving costs such as gasoline, food, paint, blinds and curtains into your plans. You'll also need to budget for the fees charged by utility providers to open accounts for things like telephone service and electricity. If you want to save a lot of money on furniture, borrow it from your family or buy it second-hand.
Keep an eye on your credit!
Before agreeing to rent an apartment to you, most landlords will run a credit check to find out whether you're somebody who meets your financial obligations or a person with financial problems. Some landlords may ask you to be endorsed when you sign the lease (i.e., to have someone agree to pay the rent on your behalf if ever you're unable to).
You can find out your credit status by ordering a copy of your credit report from Equifax
This link will open in a new window and TransUnion
This link will open in a new window.
Warning
Paying the first month's rent
Did you know that landlords don't have the right to ask you for a key or damage/security deposit? However, they can demand that you pay the first month's rent immediately, so be sure there are sufficient funds in your account to cover the first month's rent.
End of the warning