The first thing to do if you're involved in an accident is to remain calm. Then, follow these steps to make it easier for your insurer to process your claim.
An accident? Here's what you have to do.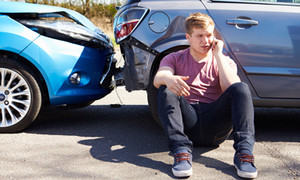 If anyone is injured, call the police. If not, complete a joint reportThe joint report of automobile accident is a report completed by the parties involved in an automobile accident where no injuries were sustained. This speeds up claims processing. A copy of the joint report can be obtained from the Groupement des assureurs automobiles. form.
Want to obtain a joint report form? You can order one free of charge from the Groupement des assureurs automobiles This link will open in a new window. If you don't have a copy of the form on hand, make sure both you and the other driver record the following information:
your names
addresses and telephone numbers
driver's licence numbers
vehicle information (make, model, licence plate number)
insurer information (name and insurance policy number)
Draw a sketch of the accident scene and record the date and location, as well as the damage to the vehicles. You might want to use your cell phone to take pictures of the damage. If there are any witnesses, take down their names and telephone numbers. Finally, both of you must sign the report.
Contact your insurance company as soon as possible. You must obtain your insurer's authorization before having your vehicle repaired.
Warning
Don't admit responsibility!
Don't admit responsibility!
End of the warning