Launched in 2015, the Québec Financial Education Strategy (QFES) is an AMF-led project aimed at mobilizing financial education organizations and specialists and promoting collaboration among them.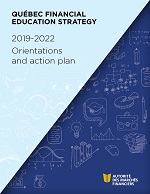 2019-2022 QFES Action Plan (pdf - 3 MB)This link will open in a new windowUpdated on 10 June 2019The Québec Financial Education Strategy (the "Strategy") is a wide-ranging collaborative
The second QFES action plan, covering the years 2019 to 2022, focuses on helping young people, workers and newcomers acquire new skills and develop greater financial awareness.
These groups were targeted after consulting with the financial education partners in the fall of 2018.
The following two orientations underpin the 2019-2022 QFES action plan:
Collaboration: Further mobilize the Québec network of financial education specialists in order to increase the number of contributors, support collaboration and maximize impact.
Financial well-being: Provide Quebeckers with tools and programs adapted to their needs and to economic, demographic and technological issues.
Louis Morisset
President and CEO, Autorité des marchés financiers
"With the support of its partners, the AMF is working hard to encourage and help Québec consumers become more vigilant in their financial habits and when making investment decisions. Now, more than ever, as technology continues to change and more and more new platforms offering investment opportunities emerge, financial education appears to be a preferred information vehicle for raising consumer awareness about new risks and delivering on our mission to protect Québec depositors and investors."
The 24 partners for the second edition
The members of the Financial education advisory committee that assisted the AMF in developing orientations and this action plan are:
Ministère de l'Éducation et de l'Enseignement supérieur
Ministère des Finances
Office de la protection du consommateur
Retraite Québec
Chambre de la sécurité financière
Chambre de l'assurance de dommages
Investment Industry Regulatory Organization of Canada
Mouvement d'éducation et de défense des actionnaires
Union des consommateurs
Option consommateurs
Coalition des associations de consommateurs du Québec
FAIR Canada
Desjardins Group
National Bank
Bank of Montreal
Sun Life Financial
Montréal Exchange
Finance Montréal
Institut québécois de planification financière
Ordre des comptables professionnels agréés du Québec
Conseil des fonds d'investissement du Québec
Canadian Bankers Association
Insurance Bureau of Canada
Canadian Life and Health Insurance Association
---