As a new resident in Québec, how can you ensure financial well-being for you and your family? By getting clear and objective information on Québec's financial system. Be well informed to make the right choices!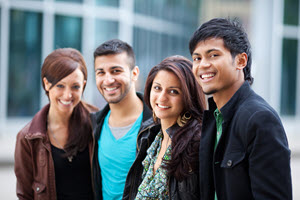 Financial institutions in Québec
In Québec, there are many financial institutionsA financial institution is a company or organization that provides financial services (loans, etc.) to the public and to businesses. Banks, trust companies and credit unions are financial institutions. , including banks and Desjardins Group credit unions (caisses). You will need to open an account at a bank or a caisse to perform your everyday financial transactions (deposit your pay cheque, pay your bills, etc.).
Before opening an account, shop around. Each institution is different.
Insight
Tip for saving money
Compare fees for banking services, inter-institution money transfers, debit card and other account usage, etc. You could save money by choosing the right package based on your needs.
End of the insight
Budget and credit
Making a budget is important because it helps you balance your income and expenses. A budget also allows you to identify priorities for you and your family and see how much you spend on such things as housing, food, transportation or credit card repayments.
A budget can be used to save money to buy a car or a property, pursue education or plan for retirement. Use the AMF's calculators and budget tables for assistance.
Be careful! It is essential to understand what credit is and how it works to avoid unnecessary debts.
Investments
Investments are distinguished by three basic characteristics: returnA return is the gain you earn on your investment in the form of interest income, dividends, or capital gains.
The return is often calculated as a percentage. If an investment of $1,000 earns $20 per year, then the rate of return is 2% ($20 / $1,000 = 2%). , liquidityThe liquidity of an investment is its ability to be easily sold for cash, without incurring significant fees.
For example, shares traded on an exchange are highly liquid if investors are constantly investors making offers to buy them. Holders of such shares can sell them quickly.
A person's or company's liquid assets consist of cash and any investments that can be quickly transformed into cash without significant fees. and riskIn the field of investment, risk is the possibility of earning a lower return than anticipated or losing all or a portion of the amounts invested. There are several types of risk that can affect the value of an investment, including credit risk, counterparty risk, currency risk, and political risk.
In insurance, risk is the likelihood that an event will take place, causing a loss. For a risk to be insurable, it must be uncertain. Furthermore, it cannot depend solely on the willingness of the insured. . Different types of investments can suit your risk tolerance. The higher the expected return, the greater the risk. It is important to determine the risk level you are comfortable with. To find out more, complete the investor profile questionnaire This link will open in a new window.
Insurance
There are several kinds of insurance, including home insurance, life insurance and travel insurance. It is essential to know your rights and responsibilities. Note that, in Québec, you must have automobile insurance if you own a vehicle. To find out more about insurance, consult our Insurance web page.
Reviewing Your Personal Finances?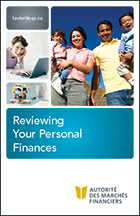 Where do you begin?