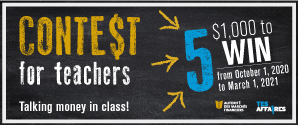 From October 1, 2020 to March 1, 2021, earn a chance to win one of five $1,000 cash prizes for carrying out a financial education activity in your virtual or physical classroom.
Tesaffaires.com and the Autorité des marchés financiers (AMF) are encouraging elementary school, secondary school, CEGEP and adult education teachers to incorporate money, budget, investment or credit concepts into their classes.
Want to enter? It's easy!
1- To talk about money in class, choose from among the following educational tools:
We will accept one entry for each tool used in class. The draw will be held on March 4, 2020.