This section presents most of the AMF's official publications.
Strategic Plan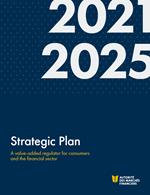 Enforcement Report
Annual Report
2019-2020 Annual Report (pdf - 6 MB)This link will open in a new windowUpdated on 16 September 2020L'Autorité des marchés financiers est l'organisme mandaté par le gouvernement du Québec pour encadrer le secteur financier québécois et prêter assistance aux consommateurs de produits et services financiers. Instituée le 1er février 2004 par la Loi sur l'Autorité des marchés financiers, maintenant intitulée Loi sur l'encadrement du secteur financier, l'Autorité se distingue par un encadrement intégré des domaines de l'assurance, des valeurs mobilières, des instruments dérivés, des institutions de dépôts – à l'exception des banques –, de la distribution de produits et services financiers et, depuis le 1er mai 2020, du courtage hypothécaire. Outre les pouvoirs et les responsabilités qui lui incombent en vertu de sa loi constitutive, l'Autorité administre les lois propres à chacun des domaines qu'elle encadre. (in French only)
Presentation of the AMF
Message from the President and Chief Executive Officer
Message from the Chair of the Advisory Board
Highlights for 2018-2019
Governance
Financial statements
---
Code of Ethics and Professional Conduct
The AMF adopted two codes of ethics and professional conduct. One applies to the President and CEO, and the other to all staff, including members who are public office holders.
(Available in French only)
Insight
Find out more
For more information about the AMF's Mission, Governance Rules or Oversight Activities:
End of the insight