This period has seen many Internet, text-messaging and e-mail scams, so be especially careful!
COVID-19-related scams
Be wary if you're invited to invest in companies claiming to offer products or services to prevent, detect or treat coronavirus (COVID-19) infections.
Fraudsters are taking advantage of current events to lure potential investors with promises of very high returns. The scams can take different forms.
For example, fraudsters may spread false rumours on social media in hopes of causing the values of shares they hold to artificially increase and selling them to you at a profit. You'll realize later that you paid inflated prices for shares that are actually almost worthless.
Fraudsters will usually push you to make a snap investment to take advantage of a "once-in-a-lifetime" opportunity. Remember, there is no such thing as a high-yield, no-risk investment.
Before you invest:
Research the investment thoroughly
Keep in mind that fraudsters often exploit the latest crisis
Always check if the person offering you an investment is listed in the AMF register.
Is the person offering you an investment authorized to sell it?
Check our register to see whether you're dealing with a representative who is authorized to practise.
Are you a victim of fraud?
Someone wants to sell you a product but isn't in the AMF register? You're being promised returns that are too good to be true?
Beware of unsolicited e-mails and text messages
Fraudsters may also play on fears caused by the current economic situation to approach you.
You may receive unsolicited e-mails or text messages warning you about your investments or personal finances. The e-mails or text messages may direct you to click on a link or open an attachment.
The fraudsters' goal is to steal your personal information or install malware on your computer or cell phone.
If you're concerned about your investments or current financial situation, contact the person or firm you usually deal with.
You've received what appears to be a legitimate e-mail or text message from a financial institution you do business with? Don't take any chances! Instead of clicking on a link or opening an attachment, go straight to the financial institution's website. If in doubt, give the institution a call.
Above all:
Don't use the contact information provided in the unsolicited e-mail or text message
Don't open any attachments
Never click on a link in an unsolicited e-mail or text message asking you for banking or personal information before doing the necessary verifications. Type the address yourself for the website you want to visit
Beware of work-from-home scams
Having a paying work-from-home job might be particularly appealing during the COVID-19 outbreak. But be on your guard!
Fraudsters are soliciting job seekers on sites like LinkedIn, Facebook, Craigslist and Kijiji. The offers may seem very realistic and may come from both known and unknown companies, including financial institutions.
To make their offers appear legitimate, the fraudsters may ask you to complete employment, income tax or access to personal and banking information forms. They might even interview you via videoconference or text messaging.
After you get the job, the fraudsters will ask you to use your own bank account during the probationary period for security reasons. They'll tell you that you can use the company's accounts after your probationary period is over and trust has been established.
The fraudsters will wire money to your bank account or send you a cheque for you to deposit. You'll then be required to transfer the amount, minus your commission, to a third-party account, often in cryptocurrency.
Not long afterward, you'll receive a message from your financial institution notifying you that the cheque or transfer was NSF. You won't be able to recover the money you transferred to the third-party account.
Your efforts to contact your new "employer" and get an explanation will be unsuccessful. After doing some checks, you'll realize that the company doesn't exist or never offered the position.
Be careful if the recruiter:
Sends e-mails from a Gmail, Yahoo or Hotmail account
Asks you for personal and banking information even before confirming that you've been hired
Doesn't want to meet you in person before hiring you
Asks you to make a payment—for a piece of equipment, for example—in order to get the job, with a promise that you will be reimbursed at a later date
Before accepting a job, research the company to make sure it exists. Even if the company is known, check its official website and contact its human resources department to ask for information about the job and confirm that it actually exists.
No employer will ask you to deposit payments to your bank account in order to then transfer them somewhere else.
When something sounds too good to be true, it probably is!
Prevent financial fraud
Keeping you informed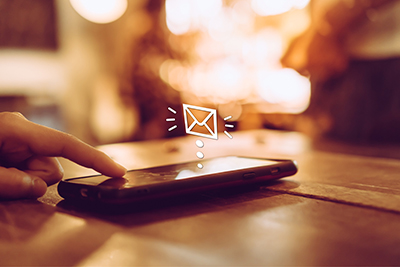 AMF E-mail Info
Every quarter, the AMF offers objective information for the general public on a variety of topics, including personal finances, insurance and retirement planning, as well as its own activities.
Investor warnings for Québec consumers
The AMF issues investor warnings This link will open in a new window whenever Quebeckers are at risk of becoming victims of a fraud scheme. These investor warnings are based on information gathered by the AMF's investigators or provided by investors and regulators in other provinces or countries.
You would like to receive our investor warnings by e-mail or text message?
Information
Questions?
You're not altogether sure that an investment being offered to you is legal? You believe you're the victim of financial fraud? Over 25 agents are available to help you.
End of the Information